Secret to Baby Soft Skin at any Age
Posted: October 22, 2020
protone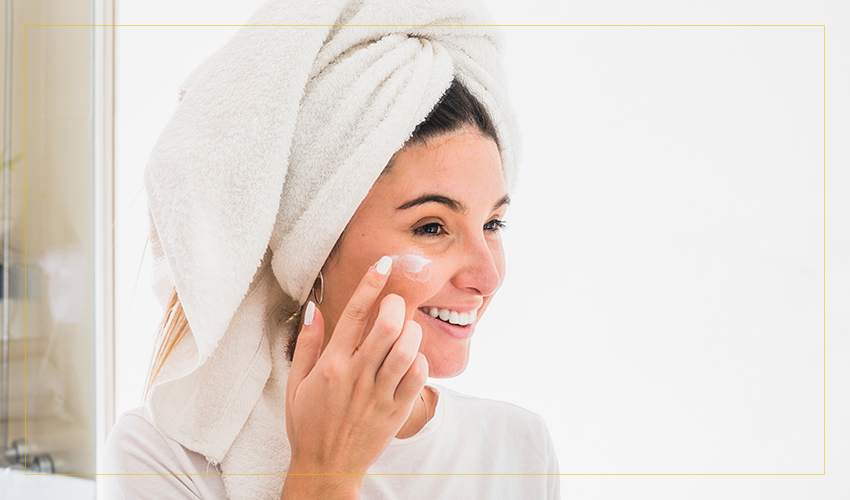 Who doesn't wish to get plumped up smooth skin like babies? You do right! Baby-like skin is the skincare goal of men and women alike. Some people believe that purchasing high-end products and incorporating them into your beauty regime helps you to attain that flawless skin, this is not true. You don't need to use several expensive products on your skin or follow that rigorous 10 steps Korean regime for getting an ever-young plumped skin. By following this one step without fail will guarantee you healthy-looking skin at any age – MOISTURIZATION.
It is a misinterpreted fact that moisturizers will lead to you having breakouts. This ain't true. It simply means that you aren't using the right moisturizer for your skin. People with any skin type, be it oily, combination, dry or sensitive, find the right moisturizer for your skin. There could be purging at the initial phase of using a new product but this ain't severe or bad, it's just that your skin is building a resistance to new products. Therefore to see the real effect of any skin product you should use it for at least three weeks and then decide if it's suited for your skin or not.
Basics Of Moisturization
We all are well acquainted with this word. But how well do you know this process? Why do you think it helps in plumping up your skin making it feel soft and young? Let's start with some basics.
Applying a moisturizer acts as a protective layer on your skin, preventing loss of water from your body. For example, take a glass of water and pour some oil on top of it. You can see that the oil forms a layer above the water preventing its contact with air and evaporating. Same way when you add a layer of moisturizer you are protecting the water in your skin from losing which helps in making your skin stay supple all day.
We see everyone stressing the fact of drinking enough water for healthy-looking skin. Only if you drink enough water your skin will look soft and hydrated. If you stay dehydrated or fail to consume enough water, you will start getting wrinkles at a very early age. Therefore it is very important that you drink enough water and then apply a suitable moisturizer on top of that. You will immediately start noticing a glow on your face.
If you have very oily skin, you might feel that most of the creme based moisturizers break you out. You must choose a moisturizer suitable for your skin type. We have a wide range of gel-based moisturizers available in the market that are suitable for oily skin. If it still gives you breakouts then apply an aloe vera gel instead of moisturizer. If you are allergic to oil-based moisturizers, the market today offers you a range of water-based moisturizers that won't clog your pores but gives you the required amount of moisturization.
Did you know applying a moisturizer on wet skin is more beneficial than applying it on dry skin? Studies suggest that applying creams on damp skin enables the skin to better absorb the product. For this, you can either apply the cream directly on cleansed damp skin or use a toner to make your skin wet ( rose water can be used) and then go for a moisturizer.
Hydration and Moisturization
Most of you would be aware of these two terms, but did you know that there is a key difference between these two processes. Moisturization is a process of preventing loss of water or moisture from your body while Hydration means adding moisture to your body. Drinking water is a part of hydration and applying a moisturizer is to prevent its loss due to evaporation. At times you might have to reapply your moisturizer to make your skin stay hydrated for longer hours.
This is where any products that have hydrating agents come to use. You might come across some products in the market with the label "HYDRATING CREAM" "ADDED HYDRATION" etc. What these products do to your skin is that they are capable of absorbing the moisture content in the atmosphere to add that to your skin. So even if you don't get to drink enough water or reapply moisturizers in intervals, your skin would still stay fresh, soft, and supple. Ingredients like hyaluronic acid, alpha hydroxy acid, glycerol, propylene glycol, etc are humectants and they will help to give you that added hydration.
How to get the best out of it?
You can incorporate a good moisturizer in your everyday skincare routine to keep your skin stay soft and wrinkle-free. Other than that, getting a good facial or Body Wrap or a massage can help you boost the benefits of moisturization even better. Facials and Body Wraps are the best means to lock the moisture in your skin for a longer period which could even last for days. It not only helps in hydration and moisturization, but it also helps to unclog your pores and detoxify your skin. Getting it done on a routine basis will also help your skin build healthy barriers and better resistance.
A massage is also the best way to feed your skin with a good moisture dose. The oils used during the massage sessions are massaged in a way that they seep better into your skin, giving you that glow. You get that glow because your skin is actually soaked in the goodness of that particular oil or cream used during that session and this can even last for a week or more. If you are running on a very hectic schedule and you don't get the time to pamper your skin, then get yourself to a spa and get a facial or massage done. This will help to add that missed amount of moisturization to your skin.
Protone Day Spa can be your destination for getting this glow here at Kochi. We have the best professionals to give you that reviving experience at our spa. We operate abiding by all safety measures and norms. You can always book an appointment by calling +917306471181 or through our website to experience the best of Massages and Face Refresher Services.
---